Make a Gift
All of us at the Maasai Joy Children's Center are thankful for the generous support of our donors and for their belief that a good education can improve the lives of Maasai children, their families, and the Maasai community.
Since 2006, nearly 200 donors have given over $160,000, in gifts ranging from $50 to $50,000, to help MJCC get a strong start. These gifts have been used to pay teachers, buy textbooks, help villagers pay for school uniforms and lunches, and construct & equip classrooms. Donors have also given non-cash gifts of supplies, computers, engineering consulting, printing, and web-design/hosting services. Most of these contributors have spent time at MJCC during volunteer or tourist visits to Tanzania, and have witnessed first-hand what an inspirational program it is. All donors share a strong belief in the value of this work, initiated, nurtured and led by one man.
A core group of donors and the non-profit organization Lift Up Africa are now working together with the MJCC founders to develop village-based and school-based sustainable projects that will provide the school with on-going income for operating expenses and construction of facilities. In the mean time, MJCC continues to rely on the generous support of its donors.
Your gift, no matter the size, will be a valued contribution.
$50 will buy text books for one student for one year
$100 will pay a teachers' salary for one month
$250 will outfit 10 students with new school uniforms
$500 will cover tuition costs for a child to attend MJCC for one year
$1,000 will buy complete set of updated text books for an entire grade
$10,000 will cover the construction of a much-needed additional classroom
Student Sponsorship Program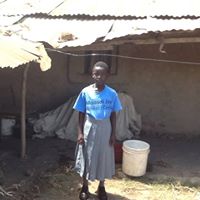 We welcome donors who would like to sponsor a student at MJCC. There are currently approximately 40 students whose families cannot pay for uniforms or the modest $500 tuition fee per year, the school. Rather than turn these deserving students away, the school director currently pays for these students directly from the income that he earns as a Kilimanjaro guide. Your sponsored student will send you a letter and tell you a little about themselves. Contact us at info@maasaijoytz.org if you are interested in more information about sponsoring a student.
Make Your Donation Today!
To make a charitable donation to the Maasai Joy Children's Centre, please visit to our U.S. fiscal partner, Joy to the World Foundation at www.joytotheworldfoundation.org. 
If sending a donation check, please add "Maasai Joy Children's Centre" in the memo or note section of the check, and mail to:
Joy to the World Foundation
Attn:  Maasai Joy Children's Centre
5550 Tech Center Drive
Suite 305
Colorado Springs, CO  80919
All donations are tax deductible for U.S. donors.